How do I delete images or results on Therapy Report Center
Since the iOS 7 update my recording functions stopped working – Learn how to fix it
With the new iOS 7 privacy settings the first time you use the app (after updating to iOS 7) it prompts you on whether you will "allow the app to use the microphone"  (this happens on each app that uses the microphone)
It is likely that you inadvertently told the prompt "no"
If so it is a simple fix
Open up your settings of the iPad (the gear shaped icon)
Find  and select "privacy" on the left
Then select "microphone" on the right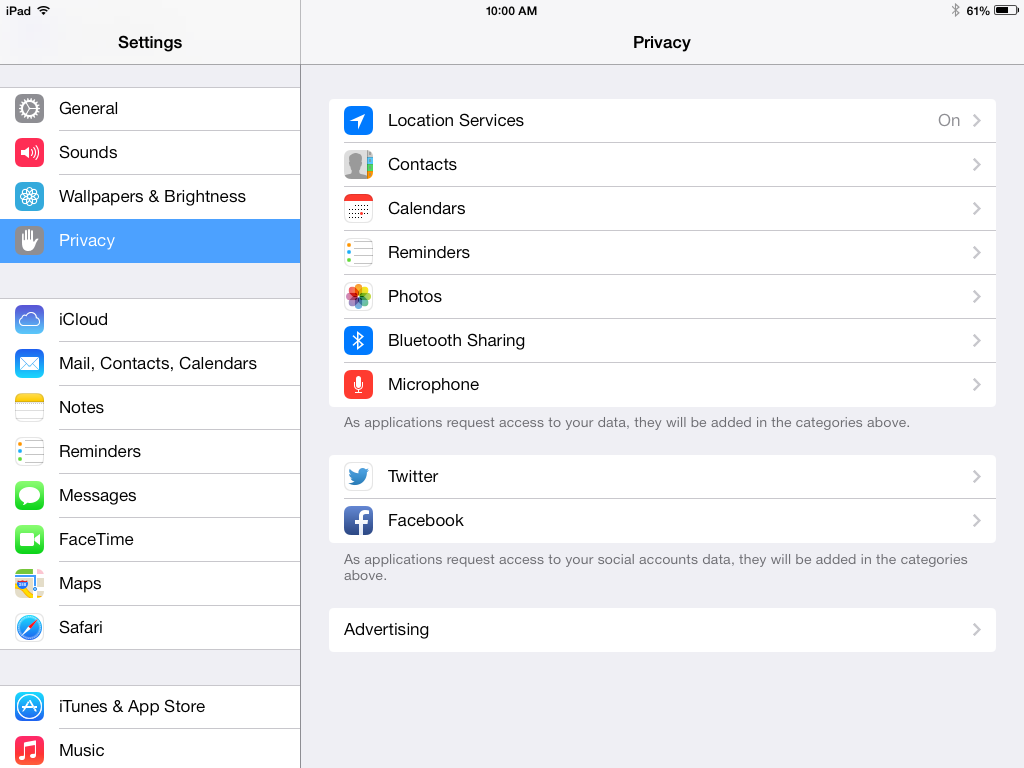 It then shows you which apps you have allowed the microphone for
Green indicating it is permitted
(In my example below syntax city is the only app turned off)
Simply move the switch from right to left until it turns green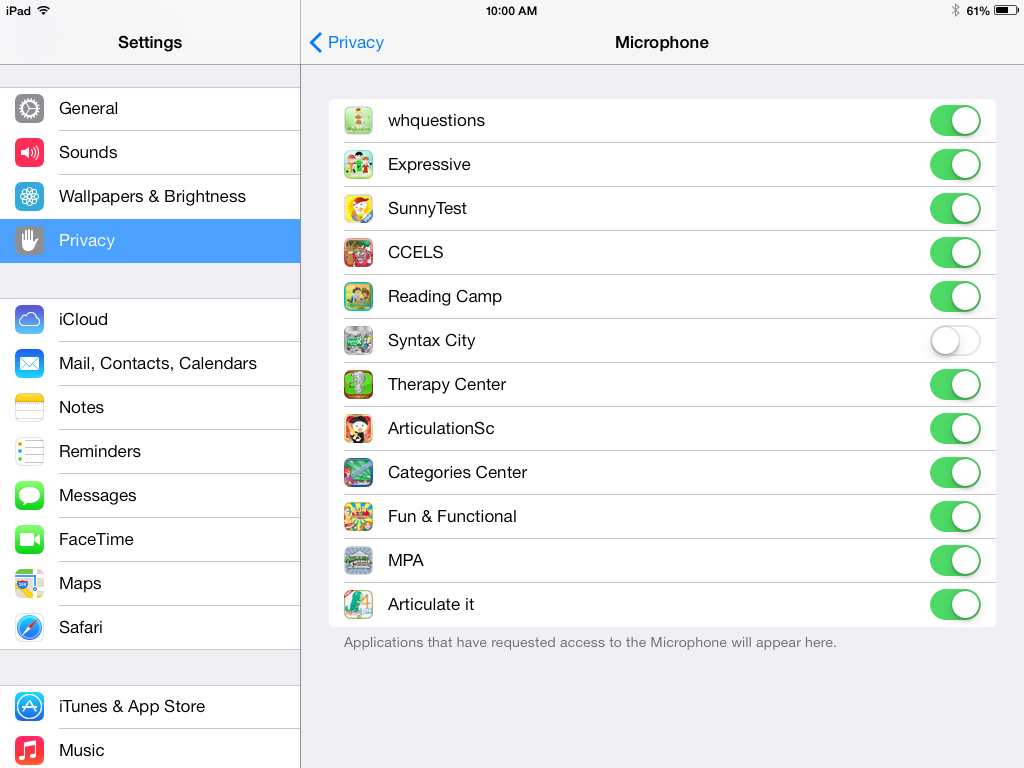 When it is green next to the app you wish to record with go back into the app, and try that feature again
How to manage students on the Therapy Report Center
Congratulations on your choice to start organizing the results from all your best apps on the Therapy Report Center(TRC). Here is how to set up the Therapy Report Center the first time you download it:
1. Open Therapy Report Center App
2. Add the profiles of all the players ( regardless of how many Smarty Ears apps you already own)
3. The first time you download TRC you MUST add the players to it- one by one.
4. If you already own some Smarty Ears apps and have data on the apps, do NOT export the students from TRC to the others Smarty Ears app. Only export if you do not have the students on that app or if this is a new app.
5. When you download a TRC compatible app all you have to do to have all students on on the new app is to tap on the button " import players from TRC" button
6. TRC app will load and you will select which players you will want to export
7. You are all set! Now you should have you brand new app full os players in less than one minute! Nice right?
If you export an student with the same name name from TRC to your existing Smarty Ears app, you will lose the data. The Therapy Report Center was not designed to have you import students' profiles that already exist, only EXPORT students' profiles.
You cannot export students TO TRC, you must add students one by one.
How to edit or delete students from Smarty Ears apps
A few people email us often asking how to delete or edit a student profile from Smarty Ears apps. All our apps have a similar style of deleting or editing players. The only thing you need to do is to double tap one student picture on the screen showing all students. Just watch the video below to learn how:
How to backup and restore the app data
How to delete and re-install apps from iTunes
Learn below how to delete and re-install apps from iTunes.
Can you donate a free copy of your apps?
Currently trial apps (apps that only work for a day/week/ month ect) do not exist. Apple does however give us  limited amount of free codes (the app is free forever) to each app we create. Generally, we have to reserve those codes to our teams of programmers, testers, and people making large presentations (eg ASHA), and our occasional promotions.
Unfortunately because we have such a limited amount of free codes and the high volume of such requests we receive, we are unable to grant requests for individuals. We do however have videos of our apps to help give a better understanding of how our apps look and function.
How to access the results on Articulate it v 2.8.1
See the video below on how to access the results obtained on the Articulation app for iPad:
My app is not behaving as it should
Just a thought as a possible solution that sometimes works, have you tried completely closing the app?
1. To do this first press the home button once to exit the app
2. Then double tap the home button and a tray of all the apps running will appear at the bottom of your iPad
3. Hold down the custom boards icon until a red minus sign appears in the corner
4. Touch the red minus sign to completely close the app
5. Double tap the home button to return to the home screen
6. Find the app and reopen it
If you are still having problems after you complete this step, just email us.
I cannot remember my password
Some of the Smarty Ears apps are password protected in order to protect student privacy in case SLPs do not set their iPad passwords. When you set your password we highly recommend you memorize your password or use a common password in order to avoid loosing the data. Once you set a password you WILL NOT BE ABLE TO RECOVER IT. In order to make your app work again, you will loose all the data and start from zero again. We do this to prevent unauthorized users from accessing the student data on your iPad.
In order to re-set your app you must:
1st. Delete the app from your iPad.
2nd. Visit the iTunes Store and re-download the application.
3rd. Set a new password and make sure not to loose it.
You will not be charged twice if you use the same account.
My iPad has audio on some apps but not on others
It is almost always that someone has inadvertently hit the mute switch or slightly more complicated accidentally locked the mute switch in settings. Many apps may still make sound even when the mute switch is on because they have been programmed to override it (e.g. YouTube). The iPad has a volume button that allows you to turn the volume of the app up and down and a silent button. Make sure you check both buttons. Both the volume and he silent buttons must be turned up.
For more details please watch the video below: