Custom Boards
"Wonderful app with limitless opportunities. I can create games, homework and visuals in a matter of minutes. I don't know what i would do without this app!"
Lifesaver!! by GradSLP – Version 1.3 – Jun 25, 2012

About Custom Boards
Astonishingly powerful, and surprisingly intuitive to use, Custom Boards is an ingeni-ous board and activity creator for the iPad that is magnet for creativity. Within minutes, create your own paper based activity. This is a must for the toolbox of any educator, therapist or otherwise crafty individual.
As a finalist of the prestigious about.com's "Reader's Choice" award in 2012, Smarty Ears' has refused to rest on their laurels, instead they have continually improved an already powerful app to contain even more features.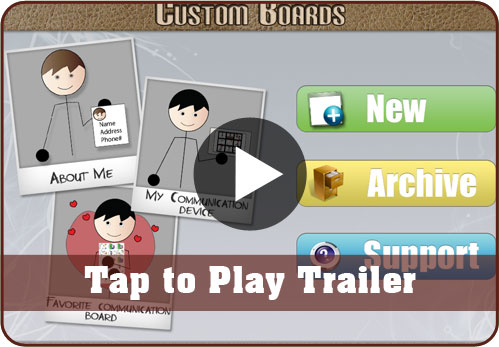 Custom Boards is a true bargain compared to computer based activity/ board creating programs that cost 10 to 20 times as much for similar features. Custom Boards is the first and only iPad based board and activity creator that covers a wide range of activities.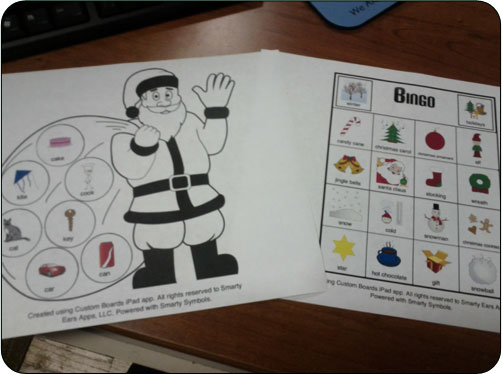 For Teachers:
Spice up your classroom with stunning word walls, clever classroom signs, or fun holiday student artifacts. Easily create your own visually stunning worksheets, homework, or educational games!
For Parents:
Help your child with clear expectations and structure with fully customizable schedules and labels. Need something to do on a rainy day: Create books, greeting cards a family tree amongst a large host of interesting templates that can make any day an exercise in creativity.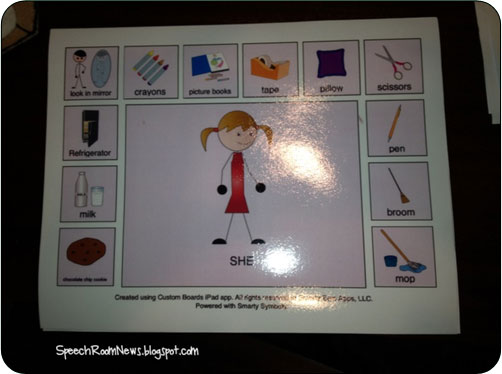 For Speech Therapists:
Search the gigantic built-in Smarty Symbols library by sound and position to efficiently create articulation activities. Make therapy focused boardgames, playing cards, and sequencing activities. Create overlays for 33 different communication devices and switches (such as the Go Talk 9+, Big Mac and Tech Talk).
Choose from over 125 templates from within 6 categories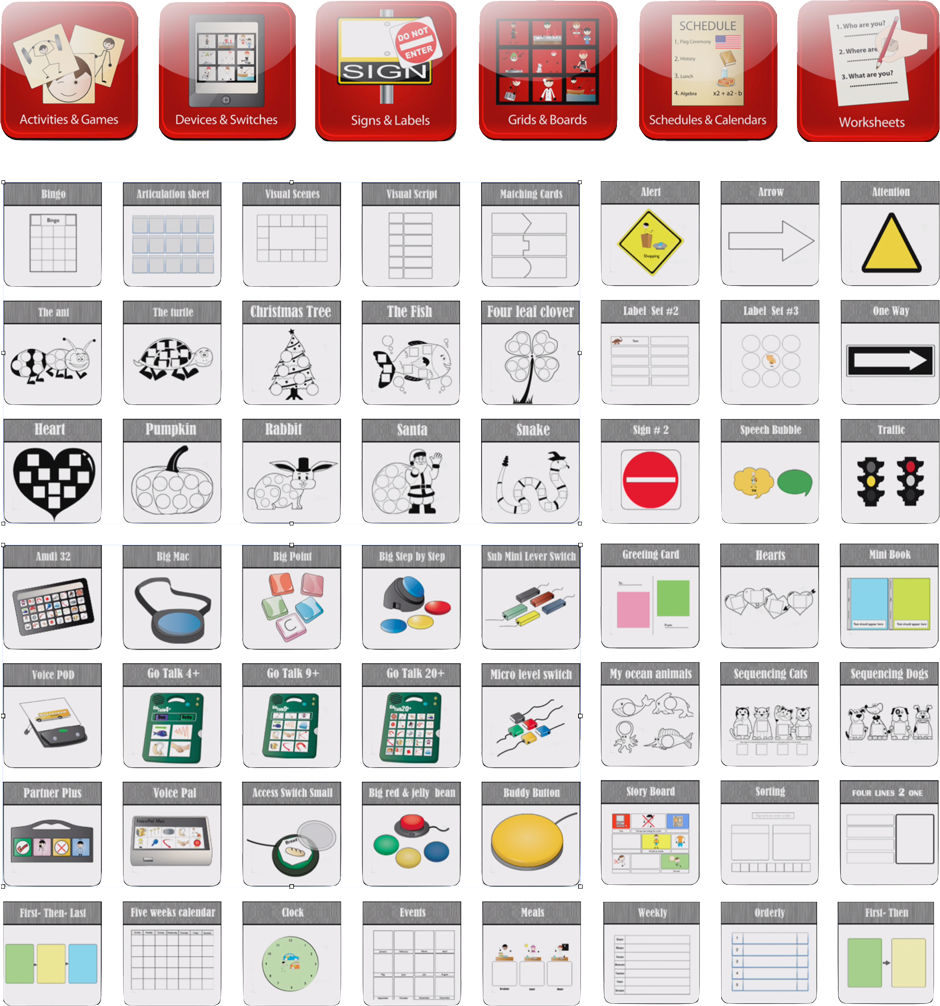 Includes over 10,000 built-in Smarty Symbols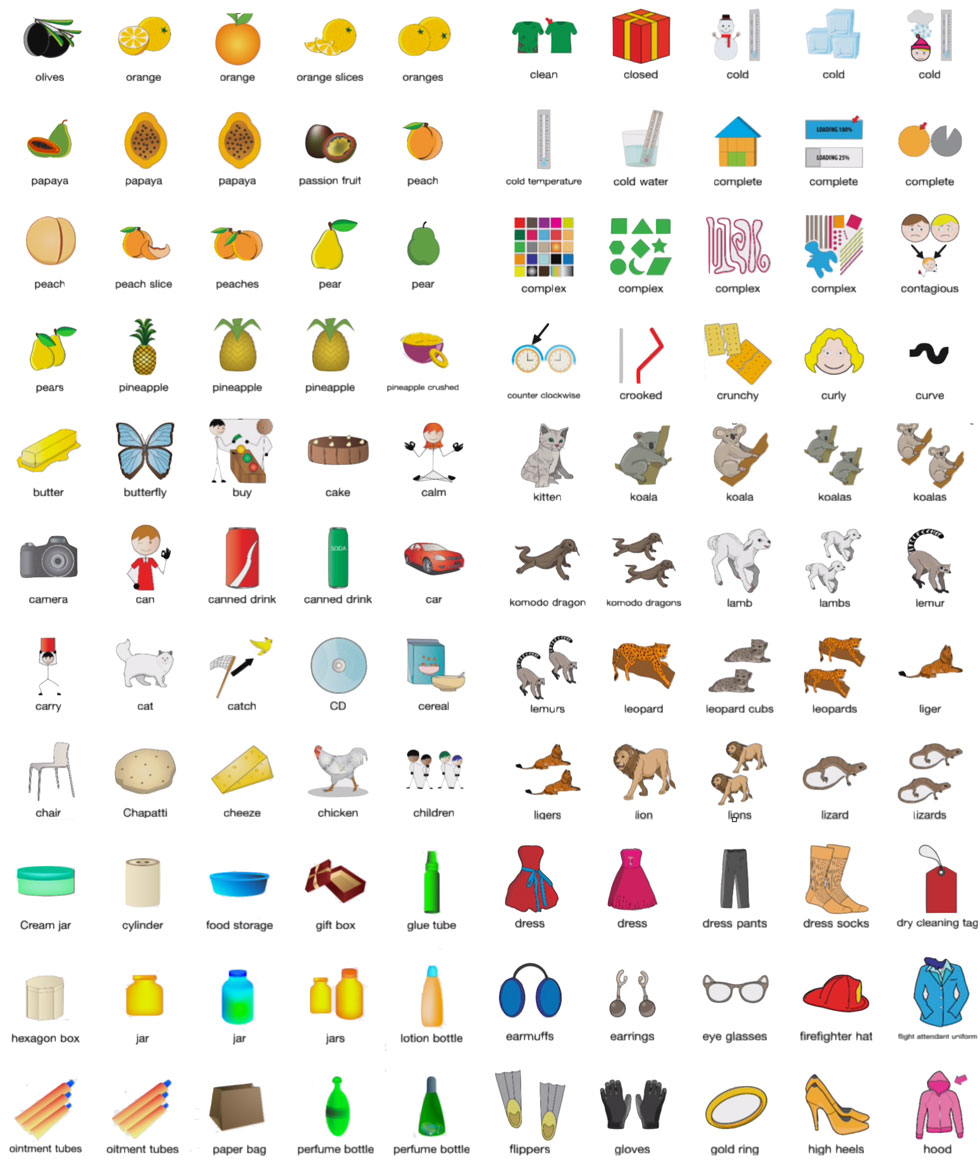 How To Use
There are two ways to add images or text to a template:
1. Fixed placement: By tapping on an empty cell.
2. Floating image: By tapping on the icons in the bottom right corner of the template.
Adding images via Fixed Placement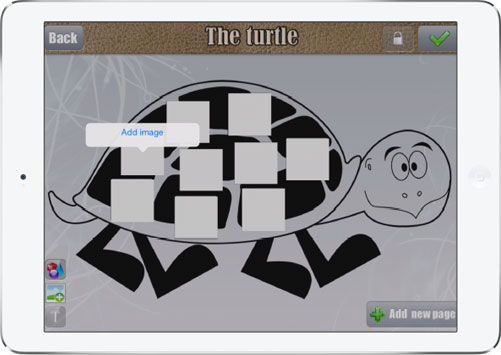 Selectable Areas
After selecting a template, tap on one of the white areas to add a picture or text; these white boxes are selectable areas that make it easy for pictures or text to fit perfectly. Touch the "Add image" button to bring up your options for this image. There are 4 types of images you can add to custom boards. You can select a Smarty Symbol, select an image from the Google search engine, select a photo from your photo library, or take a picture directly from your iPad.
Type the name of the image you are searching for in the top center "search" box.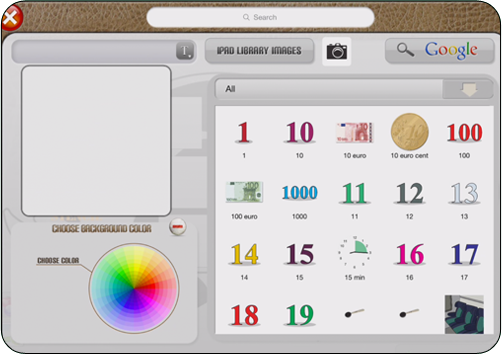 Select one of the symbols on the right hand side. The selected symbol will now fill the box on the left with the text that corresponds to the image right above it.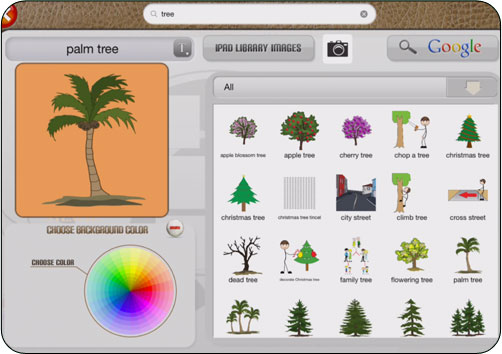 If you wish to change the background color (this is optional), touch a color from the "background color wheel". If you wish to change or delete the text tap the text above the picture to make any changes.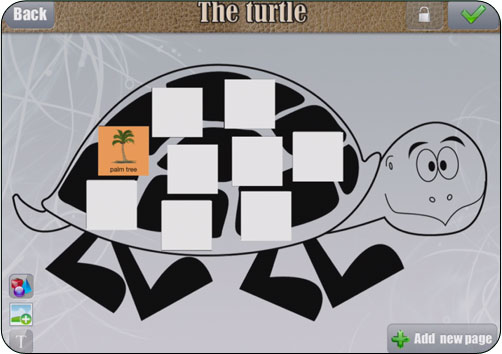 When you are done tap once on the image that you just added the new image will appear on your template
Also Search for a Smarty Symbol based off of a category or sound
Tap the downward facing arrow in the top right to picture a wheel will appear with over 100 categories to pick from. You can further narrow the search by selecting words that only contain just a specific sound including blends. There is yet one more layer of options allowing to search that sound by a specific location within the word : initial, medial or final. When you are finished selecting your options press the "done" button in the top right. The images in the box below will all reflect your selected criteria!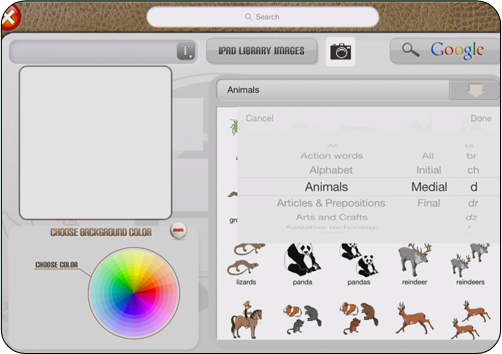 Add an image from Google
After typing the name of what you are searching for in the top center "search" box, press the "Google" button in the top right. Images from Google's image search engine will appear. Tap the image you wish to select or press "next" to see more images that appear from Google's search engine.
Add an Image from from your iPad Library
Select "iPad Library Images" on the top center. Then tap on the photo that you wish to add to your project.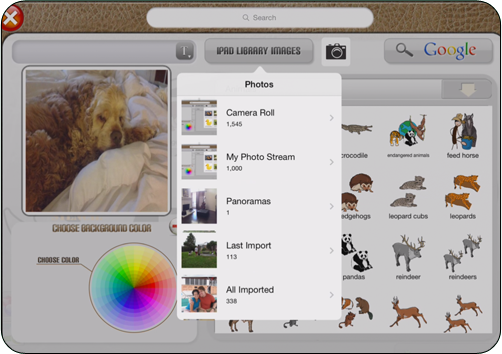 Take a picture from your iPad
Don't have what you need in your photo library but the image is right there in front of you? Take a picture directly from the app. You can take a picture directly from your iPad by tapping on the camera icon to the left of the "google" button.
Add just Text
Tap on the area in the top left (just above the blank white square) to type in text. Tapping the "T" will give you font, and text placement options. When you are finished tap on the white square below the text to finish placing it.
Adding a Floating Image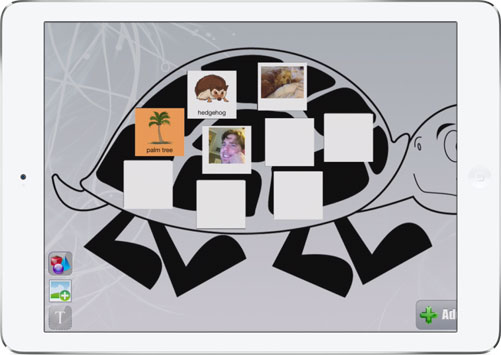 From your template tap on the icon that resembles grass and sky in the bottom left corner (right above the "T").
A similar menu appears as you would have for the "fixed image". Follow the same steps as you would to select a fixed image. Select either a Smarty Symbol, a google image or an image from your iPad library (see adding "fixed images" above).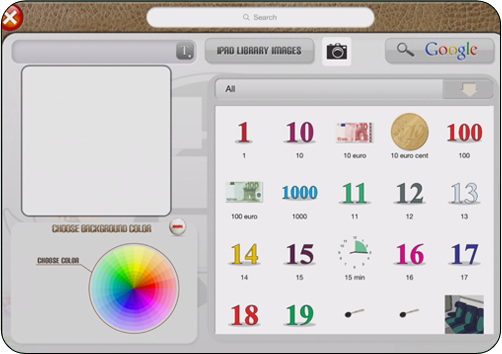 After you have selected an image it will appear in the box on the left. Tap once on the box (where the selected image is) to place the image on the template.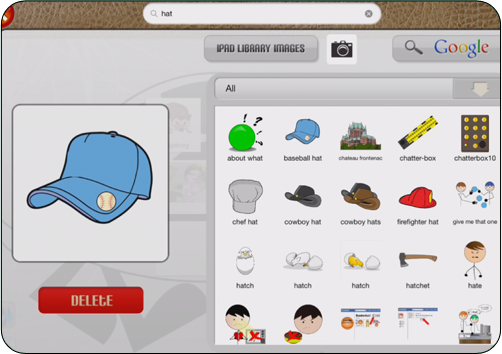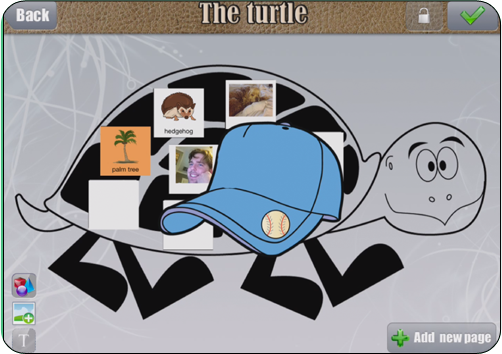 The image appears in the middle of the screen you can now drag the image to wherever you want it to be.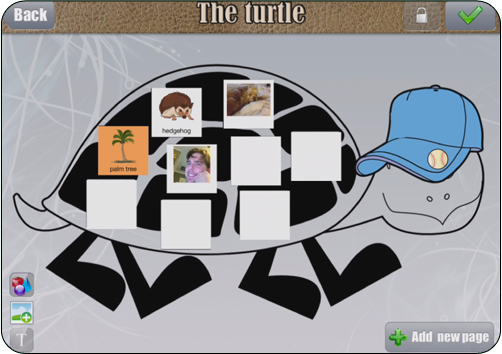 Use two fingers making a pinching motion to shrink
the image. Spread the fingers apart to enlarge the image. Make a turning motion with your two fingers to rotate the image.
Invert a Floating Image
Tap once onto the floating image you just placed. A circle will appear with options for your image. Tap on the left part of the circle (the two triangles with a line in the middle). The image will now invert.

Adjusting Layers on Floating Images
I added 2 floating images to the turtle: sunglasses and a hat. Since I added the sunglasses after the hat they appear to be on top of the hat. In order to adjust this I can tap once on the hat to bring up a circle with options. Tap the icon on the bottom of the circle to bring the image towards the top layer of images (the button on the right of the circle will bring an image towards the back layer).

Adding Floating Shapes

From your template page tap on the shapes icon in the bottom left corner. A tab of 7 different styles of shapes appears on the right. Tap on the style of your choice to see a drop down menu of shapes to choose from. Tap on the shape to select the shape. Resize or move the shape the same way that you would a floating image. Tap the shapes icon to make the menu on the right disappear.

Adding a Floating Text

From your template page select the "T" icon on the bottom left. Type your text in the top white box, select a font, select a color for the text, and then press the "place it" button.

You can then drag the text anywhere on the screen. Like the "floating images" and "shapes", you can then resize, or rotate the text using two fingers to manipulate the text.

Video Tutorial
Locking the Screen

Custom boards allows you to lock the screen of a completed template so that you can use a static image on your iPad itself as an activity without the fear of accidentally editing your creation. To do this press the lock shaped icon in the top right of the template. Slide the "slide to lock screen" lever. The "lock" icon turns red to indicate that the screen is locked.

Now use my iPad itself as a game board (as long as you treat the screen kindly)!

Share editable files with other Custom Boards users
Take collaboration to the next level in your school or district by sharing your editable files with other teachers, parents or therapists who also use custom boards. This allows the person you sent the file to make changes so that they can adjust it for their students' needs.
To do this:
Select the green check mark button in the top right corner. Elect "share editable file". This opens up your email with the Custom Boards file you created as an attachment. When the receiver of the email opens the attachment it will load the board automatically into their custom boards archive.

Printing and Emailing PDFs Share your creations with anyone
To print or email select the green checkmark icon in the top right. Select "share PDF". Select "print" to print directly from an air ready printer. Select "email" to email the PDF.

Features
• includes over 125 templates from within 6 categories
• includes over 10,000 built-in Smarty Symbols
• Choose from a total of 100 floating shapes and 7 different styles of shapes
• Ability to add images from Google search engine
• Ability to add Floating Images—place an image anywhere on the template!
• Ability to add Floating Shapes—place any of the 100 built in shapes anywhere!
• Ability to add Floating Texts— place text anywhere on the template!
• Layers — select individual floating images, text, and shapes and move them forward/back
• Add multiple pages to a template
• Lock the screen to use a static image on the iPad itself in an activity without accidentally editing it.
• Ability to lock the screen so that the iPad surface itself can be used for an activity.
• Share editable files with other Custom Boards users
• Email PDFs of your custom boards creations to anyone
• Quickly print your creations with an air ready printer
• Cloud Compatible — backup your files via the cloud
• Organize your archive of creations with folders
Reviews

Incredible, comprehensive, amazing, dynamic – these are just some of the descriptive words that came to mind the first time I opened, Custom Boards – Premium by Smarty Ears! I can't believe that I have gone this long without checking it out! Don't make the same mistake I made, take a look for yourself at what you can do with this treasure. This has quickly become my top, must have application. Whether you work in a school setting or clinic, see clients individually or in classroom settings, you will want to get this app.
http://teacherswithapps.com/app_reviews-custom-boards-smarty-ears/

"Overall, I LOVE, LOVE, LOVE this app! There are so many things to do, and so many ways to use it! I'm sure that without trying too hard, I could find some way to use this app for each and every kiddo on my caseload."
http://whitneyslp.blogspot.com/2012/12/custom-board-app-review.html

"I have been a fan of this app for quite some time (as you will see in the examples below). Not only can you create your own materials from thousands of images and over 100 templates, but now you can SHARE your masterpieces between other owners of this app (their newest update). Although this app is a bit on the pricier Reviews: side, it's well worth the cost! Consider it one-stop shopping for everything you need to quickly conjure up an unlimited number of games and activities."
http://speechsnacks.com/2012/12/custom-boards-yet-app-review-giveaway-appyholidays/
Research behind Custom Boards
A research study by Wilkinson, Carlin, & Jagaroo, 2006, found that children are faster and more accurate in learning symbols when the symbols had unique internal colors; therefore users are also able to to change background colors on each individual cell on Custom Boards.
**Evidence Based and Custom Boards: "The use of visual supports and symbols as receptive and expressive components of an AAC system has been established as an evidence-based practice for individuals with Autism Syndrome (Mirenda & Iacono, 2009)"
***"Wendt (2009) found that the use of graphic symbols for requesting has the most extensive evidence base for people with ASD."
Therapy Use for Custom Boards by Therapy App 411.com :
– Create visuals supports such as schedules, first then contingency boards, scripts.
– Create activities to support academic and individualized goals and programming.
– Create activities to support goals across many speech-language domains such as articulation,
– expressive and receptive language and fluency.
– Create communication boards that are individualized for the children/students and/or adults with whom you work.
– Create overlays for 33 different communication devices and switches (such as the Go Talk 9+, Big Mac and Tech Talk).
– Create homework activities with your children/students and/or adult clients as an end of therapy activity. For the children on your caseload, you can email it to parents/caregivers.